Voicing Concern
Blurb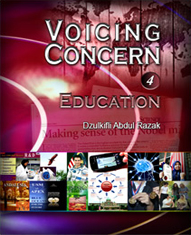 The book is not just a collection of the writer's writings but also reports on interviews with him. When interviewers engage in the exciting probing of his mind and passion, evidence is encountered as to why he is sometimes considered a "rebel intellectual" who boldly challenges the inconsistencies of cultural, bureaucratic and policy articulation of "autonomy".
"Enjoying the elegant mind of the lifelong scholar… Mindscapes of a thought leader."
Ibrahim Ahmad Bajunid, Professor Dato'
2010 Recipient of the National Award for Educational Leadership
Also Presidents,
The Malaysian Education Association
The Malaysian Educational Management and Leadership Association

and Member,
National Advisory Panel Member for Education.
Back Flap
Previous volumes of Voicing Concern by Dzulkifli Abdul Razak (Penerbit Universiti Sains Malaysia, 2005) focussed on these issues:
Tobacco, Alcohol and Drugs of Abuse
Wellness, Medicine and Health
Policy, Environment and Sustainable Development
War, Violence and Society