Benefit-cost study shows lockdowns should be rejected
Emeritus Professor Tan Sri Dato' Dzulkifli Abdul Razak
Opinion - New Straits Times
February 8, 2022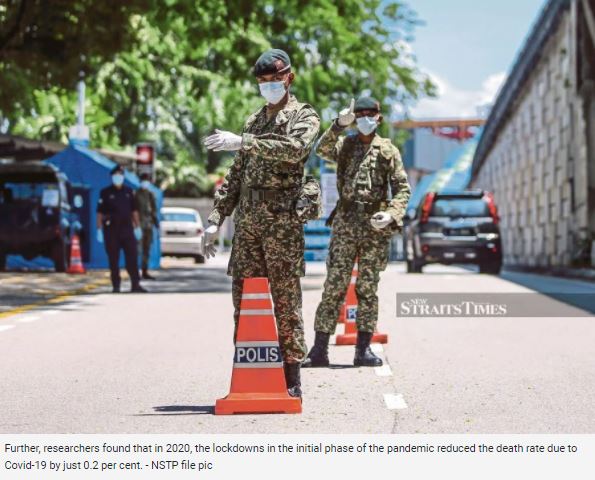 THE Omicron wave is on us. The number of people contracting Covid-19 is rising, with more than 10,000 cases reported daily.
In the coming weeks, the numbers are expected to rise and increased hospitalisations, isolations, as well as deaths, will be matters of concern.
Lockdowns will be revisited as a strategy to cope with the situation.
On that note, however, it is worthwhile reviewing information from Johns Hopkins University sources indicating that lockdowns were "not effective" based on a meta-analysis that revealed they "did very little to prevent deaths."
This is despite some claiming they prevented the spread of Covid-19.
More specifically, at least during the first wave of the Covid-19 pandemic, the results aligned with the World Health Organisation's writing group, which stated in 2006: "Reports from the 1918 influenza pandemic indicate that social (sic)-distancing measures did not stop or appear to dramatically reduce transmission."
It cited that in Edmonton, Canada, "isolation and quarantines were instituted; public meetings were banned; schools, churches, colleges, theaters, and other public gathering places were closed; and business hours were restricted without obvious impact on the epidemic."
The findings are said to be in line with another conclusion last year, which said that lockdowns have had, at best, a marginal effect on the number of Covid-19 deaths.
Further, researchers found that in 2020, the lockdowns in the initial phase of the pandemic reduced the death rate due to Covid-19 by just 0.2 per cent.
They wrote: "We found no evidence that lockdowns, school closures, border closures and limited public meetings had a significant effect on Covid-19 mortality."
Allegedly, the unintended consequences of lockdowns may have played an even larger role than previously recognised.
It has already been associated with the possible unintended consequence of shelter-in-place-orders, which may isolate an infected person at home with their family where they risk infecting family members with a higher viral load, causing more severe illness.
Often, lockdowns have limited peoples' access to safe outdoor places, such as beaches, parks, and zoos, or included outdoor face mask mandates or strict outdoor gathering restrictions, pushing people to meet in riskier indoor spaces.
Indeed, evidence suggests that limiting gatherings was counterproductive and increased Covid-19 mortality instead.
However, it is noted that only closing bars contributed to some reduction in deaths, that "closing non-essential businesses has had some effect (reducing the Covid mortality rate to 10.6 per cent), it is likely that its strings are connected with the closure of bars".
Countries like Denmark, Finland and Norway that kept Covid-19 mortality rates relatively low allowed people to go to work, use public transport and meet privately at home during the first lockdown.
There were ample opportunities to legally meet others.
Meanwhile, mandates that regulate only a fraction of our potential contagious contacts can hardly enforce handwashing, coughing etiquette and physical distancing in public areas.
Overall, lockdowns during the initial phase of the Covid-19 pandemic had wide-ranging devastating effects, include dampening economic and schooling activities, raising unemployment, causing political unrest, contributing to domestic violence, and undermining socio-political stability and democracy.
Comparing these costs to the society vis-à-vis the benefits of lockdowns, the meta-analysis showed a small gain at best.
Such a standard benefit-cost calculation leads to a strong conclusion: lockdowns should be rejected as a pandemic policy instrument.
Moreover, the use of lockdowns is said to be a unique feature of the Covid-19 pandemic and that it is claimed to have not been used to such a large extent during the pandemics of the past century.
On hindsight, experts' view is that the timing of the lockdown and the unintended consequences must be properly understood if it is expected to play a meaningful role in lowering the mortality rate.
The Omicron wave may be just the situation that warrants such an in-depth deliberation.
The writer, an NST columnist for more than 20 years, is International Islamic University Malaysia rector