Malaysia's RCEs can be next flagship higher education institutions
Emeritus Professor Tan Sri Dato' Dzulkifli Abdul Razak
Opinion - New Straits Times
April 1, 2021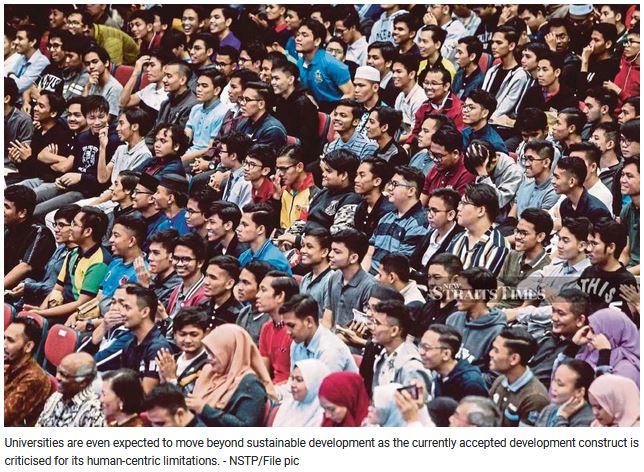 THE understanding of the concept of Education for Sustainable Development (ESD) was first defined in Agenda 21 Chapter 36 by the United Nations (UN) in 1992.
It highlighted four thrusts: access to and retention of quality basic education; reorienting education systems to address sustainability; building public awareness and understanding of sustainable development; and, providing training to all in the private and public sectors to promote sustainability at home and in the workplace.
Although education has always been acknowledged as critical to achieve sustainable development, it was not until then that it was fully established and has since been unanimously reiterated by the UN.
However, ESD is not yet another discipline to be taught. It is a purpose of education, as a way of addressing locally relevant economic, environmental and social matters in culturally appropriate ways.
Higher education was not mentioned in the Brundtland Report, named "Our Common Future", released in 1987.
It is in Chapter 36 of Agenda 21 that higher education was given a responsibility for producing and sharing evidence-based knowledge regarded as the UN's first concerted action plan for sustainability. Countries are urged to support university and other tertiary activities and networks for environmental and development education.
Regional networks, activities and national university actions are encouraged to promote research and common teaching approaches on sustainable development.
In practical terms, 2005 was the turning point for ESD, when the first pioneering Regional Centres of Expertise (RCE) on ESD were acknowledged by the UN University Institute of Advanced Studies based in Tokyo.
One of the RCEs is hosted by Universiti Sains Malaysia (USM) in Penang. It was a landmark moment that facilitated USM's bid for Accelerated Programme for Excellence (Apex) status as a sustainability-led university in 2008.
In other words, Penang RCE is a crucial component of the Apex experience that is globally recognised.
Since then, USM has enjoyed a number of accolades as a leading university in ESD. More recently, in light of the 2030 Agenda for Sustainable Development, the UN General Assembly recognised ESD as an integral element of SDG 4 on Quality Education and as a key enabler of other SDGs, enhancing the status of RCEs internationally.
The UN and Unesco fully "…emphasise the potential of ESD to empower learners to transform themselves and the society they live in by developing knowledge, skills, attitudes, competencies and values required for addressing global citizenship and local contextual challenges of the present and the future…", implying that RCEs, through ESD, can transform learners, the pedagogy and the learning environment to shape universities of the future.
Given the dire state of the world, universities have been called upon to customise responsible research and teaching-and-learning towards a better understanding of our planet in the Anthropocene as well as the post-pandemic era.
At the same time, they are urged to tackle the "…wicked problems…" that pose global and local challenges of the century and beyond. Thus, the role of RCEs being an agile and adaptive structure relative to the current conventional can transcend the limitations posed by the latter in applying a more holistic approach to sustainability.
Universities are even expected to move beyond sustainable development as the currently accepted development construct is criticised for its human-centric limitations.
In short, RCEs can lead to a profound refinement or emergence of a new paradigm that might serve as a (new) purpose of education in the future as envisaged by Unesco.
Malaysia is well poised for this as it has six RCEs among fewer than 180 in the world.
They can be the next flagship higher education institutions given the relevant leadership in tandem with Unesco Futures of Education initiatives.
The writer, an NST columnist for more than 20 years, is International Islamic University Malaysia rector
---
The views expressed in this article are the author's own and do not necessarily reflect those of the New Straits Times