'Happy just to have a mattress'
Professor Tan Sri Dato' Dzulkifli Abdul Razak
Learning Curve: Perspective
New Sunday Times - 14-12-2014
I STUMBLED upon three surprises as a speaker at the recent International Conference on Higher Education hosted by the University of Guadalajara in Mexico.
The first was the concurrent renowned Guadalajara International Book Fair, regarded as the most important publishing gathering in Ibero-America that also doubles as a cultural festival. The second was the fact that the event — initiated 28 years ago by the university — draws authors of various languages and cultures from all continents to take part in stimulating academic forums and dissect key concerns. Argentina is guest of honour this year.
The most pleasant surprise, however, was the address by Uruguay President José Mujica in a hall full of admirers on the last day of the fair. I am privileged to be an invitee.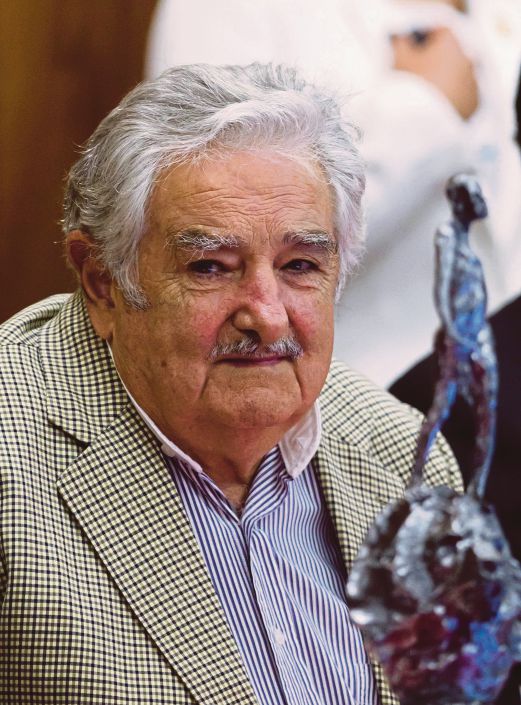 Jose Mujica
Until then, little did I realise that he has a huge following outside of Uruguay. If Asia hails Indonesian President Joko Widodo for his humility and modesty, Latin Americans see the same in Mujica. Perhaps more so, given his game-changing "simple" yet profound stance demonstrated throughout his presidency.
Mujica, 78, leads an exemplary simple lifestyle as head of state. The Guardian of the United Kingdom ran the headline: "Uruguay's president José Mujica: no palace, no motorcade, no frills" on Dec 13 last year. Reporter Jonathan Watts wrote: "If anyone could claim to be leading by example in an age of austerity, it is José Mujica, Uruguay's president, who has forsworn a state palace in favour of a farmhouse, donates the vast bulk of his salary to social projects, flies economy class and drives an old Volkswagen Beetle." Since assuming office in 2010, he has "won plaudits worldwide for living within his means, decrying excessive consumption".
He and his wife have "only two guards parked on the approach road, and (his) three-legged dog as security detail" at his one-bedroom home set amid chrysanthemum fields outside Montevideo. The UK Daily Mail lauded him as a trustworthy and charismatic figure in an article titled Finally, a Politician who DOESN'T Fiddle his Expenses (Nov 16, 2012).
This was echoed by the chairperson at the book fair when he said in Spanish that Mujica is probably the only president who has not robbed a single peso from the treasury. The crowd applauded in agreement to this statement. It is no wonder that Mujica mesmerised the audience in his hour-long interaction.
And every so often he drew thunderous applause, unlike the half-hearted claps that we often hear. His charisma and sincerity come from the heart; he does not make mere "populist" statements that many citizens have grown used to.
Determined to be a one-term president, and with his office ending soon, he stated: "There is no social justice without sacrifice."
He bears this out by living within his means and reducing unnecessary consumption.
"My lifestyle is a consequence of my wounds. I'm the son of my history. There have been years when I would have been happy just to have a mattress," he said.
Yet he is a critical realist. "We're in an age in which we can't live without accepting the logic of the market.
Contemporary politics is all about short-term pragmatism. We have abandoned religion and philosophy… What we have left is the automatisation of doing what the market tells us."
He is adamantly against "blind obsession" to achieve growth through greater consumption, and insists on the "need to build things that last".
He advocates that if we live within our means — by being prudent — the seven billion people in the world can have everything they need. While global politics should be moving in that direction, he noted: "But we think as people and countries, not as a species."
While he has a mild demeanour, he is intellectually engaging. He was not shy in speaking his mind when it came to the fight against inequality as a means to overcome injustice and violence.
It was not surprising that he won over the younger generation, especially students. During his visit to the Federation of Students Union at the University of Guadalajara, he was conferred the Heart of Lion Award for highlighting the fight for the return of the missing 43 students from a Mexican teacher training college earlier this year.
Mujica is the embodiment of kepemimpinan melalui teladan and indeed he takes it further beyond what Malaysia is not able or willing to do.