Educating hearts and minds
Professor Tan Sri Dato' Dzulkifli Abdul Razak
Learning Curve : Perspective
New Sunday Times - 10-07-2011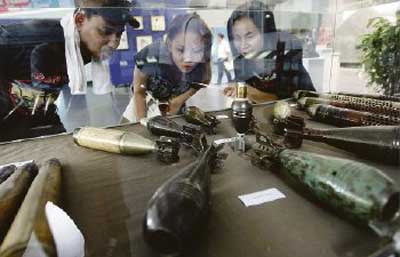 Visitors at the War Museum in Vietnam. The ethical
crisis is evident in the frequency of violence and wars
that are being waged today
TUN Dr Mahathir Mohamad expressed his delight at addressing more than 1,000 professors at Kongres Profesor Negara last week.

Dr Mahathir was specially invited to address the gathering on the theme Transforming Nations Beyond 2020.

He admitted that it was  the first time he had given a speech at the congress and recalled the days when he knew only Royal Professor Ungku Aziz of University Malaya among those of the same rank in Malaysia.

The National Professor Council was initiated about a year ago by Higher Education Minister Datuk Seri Mohamed Khaled Nordin.

It was launched by Prime Minister Datuk Seri Najib Razak.

Mohamed Khaled was quoted as saying: "Professors need to think about how their skills and knowledge can be useful to the people and for the growth of the country. They should no longer just think of their own reputation and achievements."

He used  the word murrabi to describe his aspirations for a professor. Murabbi refers to someone who not only teaches but also tries to "educate" a person to live the knowledge that has been imparted.

A murrabi is able to internalise the knowledge which forms part of his personality that involves more of the "heart".

The same goes for students.

It is interesting that  the question of the "heart" was also touched on in an earlier lecture by Distinguished Professor Datuk Shamsul Amri Baharuddin.

Moderator Professor Tan Sri Kamal Hassan encapsulated it as part of "heartware" -- complementing  "hardware" (Sciences) and "software" (Social Sciences/Humanities). "Heartware" refers to the learning of ethics and morality as the third component of the ecosystem that must not be missed.

Unfortunately, this is not the case until  now!  

In fact, Dr Mahathir in his review of Wawasan 2020, reiterated that "ethics" and "integrity" are key factors in making Malaysia a "developed" country which is different from the prevailing models. Therefore, the desire to transform itself in its own mould (dalam acuannya sendiri) as stated in the preamble to Wawasan 2020. Dr Mahathir attributed the collapsing present model of development to the lack of emphasis on integrity and ethical behaviour.

The recent Wall Street scandal is perhaps the best case in point yet, after a series of many such fiascos like Enron and Worldcom.

The attempt to create intellectual wealth must be accompanied by  high moral values, which take into account the well-being of humanity at large.

Quality development means paying attention to solving human problems.

The articulation of "wealth" therefore is not just fixated on the tangibles, but also that of intangibles, namely morals.

Dr Mahathir even implied that the more material wealth one accumulates, the  greater the challenge to maintain morals.

Balance is imperative to bring about a more comprehensive development in Malaysia.

Najib, in his opening speech at the Congress, emphasised the need for "moral direction" as well knowledge guided by values.

And this should start with  education and the education system. At this point, Dr Mahathir lamented that he was unable to persuade change in this direction.

The ethical crisis is evident in the frequency of violence and wars that are being waged today.

While it  is criminal to commit murder, murderous wars ironically result in hero-worshipping and building of statues as national symbols. As such, Dr Mahathir argued  that there is something "wrong" with the global value  system.

Unless the "right" and just system is implemented, ethics will always be vulnerable.

That said it is apt  that Shamsul Amri highlighted the Global Peace Index 2011 where Malaysia is placed at  No. 19 out of 153 countries.

The index puts Malaysia topmost in Southeast Asia and No. 2 in Asia, after Japan. It claims to measure the relative peacefulness of nations and regions, and it was developed in consultation with an international panel of experts from peace institutes and think tanks.

The 23 factors considered include internal factors such as levels of violence and crime within a country and considerations in the nation's external relations such as  military expenditure  and wars.

The index lends  credence to Dr Mahathir's aim to criminalise  wars, which can have a huge  impact on  the future beyond 2020.

And because wars start in the heart and  mind, these must first be addressed if the future is to be secured.

This is no doubt a confirmed mission in education, and a clear mandate for those who "profess" to be a  professor!
* The writer is the Vice-Chancellor of Universiti Sains Malaysia. He can be contacted at vc@usm.my