Circumambulating the 'heart'
Professor Tan Sri Dato' Dzulkifli Abdul Razak
Learning Curve: Perspective
New Sunday Times - 14-08-2011

A FORTNIGHT into Ramadan and the holy city of Mecca may be the busiest place where about two million people converge from around the world to perform the tawaf, among other rites.
Tawaf is an essential rite of hajj or umrah performed by pilgrims. It entails the circumambulation of the Kaabah, the House of God, erected by the patriarch Abraham when commanded by Allah to do so.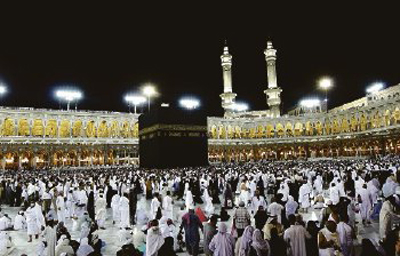 Pilgrims circle the Kaabah day and night


The Kaabah has since constantly witnessed the faithful encircling it, day and night. As my daughter noted, Mecca not only does not sleep but is also spiritually vibrant.

In a sense, the Kaabah is like the "heart" that never ceases to stop functioning, re-energising those who perform the act of circumambulation. Viewed from the air, it is as though the floor around the Kaabah smoothly revolves.

The circumference of the circle intermittently expands and contracts depending on the size of the crowd participating in the rites, which varies with the time of day. It is akin to a pulsating heart receiving deoxygenated blood, and pumping oxygenated blood into the system. The latter resembles pilgrims who have completed the tawaf and are now ready to join society at large.

Beneath the Kaabah is the well of Zam zam, a natural source of gushing water traceable back to the days of Abraham and his spouse. The supply continues to quench the thirst of millions upon millions of pilgrims who undertake the tawaf and other religious activities in Mecca. The endless counterclockwise movements of people -- like that of Earth -- seemingly vitalise the Zam zam water, in contrast to water forced into linear supply pipes.

Esoterically, the circumambulation is symbolic spiral movement upwards, awakening the soul towards heaven. In short, there is more to the simple act of tawaf than meets the eye.

But that, too, is changing. I remember in the early eighties, some -- especially those who are too weak to perform the tawaf on foot -- were hoisted on stretchers made of wood and ropes, swirling around the Kaabah. For the young, this was a spectacle to behold as they took "shelter" under the stretchers to go with the flow as it were. This phenomenon has now been replaced by modern wheelchairs.

Yet another contraption is the wireless handphone. At one point, I overheard someone offering salaam to which I promptly responded as is obligatory -- only to find someone whizzing past me with a handphone pressed to his right ear, leaving me wondering who could be more important in the vicinity of the House of God? I remember a notice at the Universiti Sains Malaysia (USM) mosque which says: "No call is more important than from the divine. Please switch off your handphone."

There were days when the only wireless connectivity is the "heartphone". It is the "heart" that communicates with the divine in silence and peace, connecting with many other hearts among the solemn crowd. Today, more than ever, that peace is interrupted by electronic ring tones! At night, there are occasional flashes from handphones of the pilgrims. There appears to be more desire to preserve the images in pictures rather than etching them in perpetuity in hearts!

It is worse when some use slick gizmos to capture a moment at the most sacred of places. One youngster, donning a blue T-shirt with the words "All American" emblazoned on it in white, was posing with the Kaabah in the background!

The once strictly enforced no-photography regulations are taken lightly despite graphic instructions on billboards around the Holy Mosque. It means that there are many more distractions in the quest for a deeper inner peace!

Before the tawaf is reduced to another exoteric ritual, we must remember that indeed the divine call is more important to the exclusion of others!

* The writer is the Vice-Chancellor of Universiti Sains Malaysia. He can be contacted at vc@usm.my