Are we ready to reclaim the top spot?
Professor Tan Sri Dato' Dzulkifli Abdul Razak
Learning Curve: Perspective
New Sunday Times - 20-11-2011
A recent news report entitled More Rubber Land May Help Malaysia Reclaim Top Spot (New Straits Times, Nov 10) drew attention to the shaping of Malaysia's future,  particularly  in regaining its prestige.

Malaysia lost its world's leadership role in the rubber industry not so long ago. In 1987, neighbouring Thailand surpassed us as the top global producer, followed by Indonesia.

Malaysia then was said to be keener on planting  oil palm in a big way, given better economic returns.

Local rubber production plunged in the late 1980s as fewer companies decided to cash in on rubber as the preferred commodity. With it,  Malaysia's image too  suffered and has not  recovered since.  

The news report  seemed to suggest that the country can reclaim its past glory if only there was more land  for rubber.  Sabah and  Sarawak were named as  potential areas.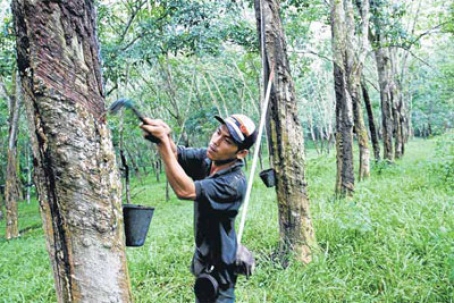 Sabah and Sarawak are seen as potential areas for planting rubber trees.
While this may sound exciting and doable, it may not be desirable if it means that  jungles have to be sacrificed, causing deforestation.  

There are allegations that wildlife will also be displaced in the process, and not to mention the indigenous people. We have heard all of  these before when Malaysia aggressively opted to plant oil palm instead of rubber. We may have had little or no choice in the past.  

Now the situation is vastly different and so are the capabilities required. As it has often been said in the new economy, land and brawn are no longer the competitive edge.  

Our  neighbouring countries have larger land mass and population size than us, after all.  Competition now is based on ideas and brains which are far more difficult to mobilise.  

Logically with a larger population, there are greater possibilities of generating more innovations.  

GETTING AHEAD In other words, speed is the determinant. Those with few resources often   have sheer "speed".  

Our southern neighbour exhibits this well at our expense most of the time!  Getting ahead also depends on other factors: level of confidence, autonomy and trust,  which  cut across  barriers that we have erected physically or in our minds.  

When one of the three  ingredients is absent, we are unable to work as a team.  

Sadder still, many a time,  this is unconsciously done because the competition  remains at the lowest level that of the individual (self,  vested group, organisation).  

In this regard, another eye-opening news report (NST, Nov 13)  quoted  Prime Minister Datuk Seri Najib Razak as saying that Malaysia is strengthening its position in  commercial facilitation, entering the world's top 20 on  ease of doing business.  

Citing a World Bank report, Malaysia is now the world's top performer in keeping the cost of imports down, something which  is vital to making Malaysia a better place to live. "We have moved from 23rd in the world last year (2011 index) to 18th this year (2012 index)",  Najib was quoted as saying, while admitting that we  still have more work to do.

WINNING TOUCH In  a similar vein what is Malaysia's ease of pursuing ethical science as another competitive edge? Do we have the level of confidence, autonomy and trust elements that are also closely intertwined with successful innovation — to make us a winner and a leader?

The answers to these questions  can easily  reflect  how successful Malaysia will be in becoming a leader  of the natural rubber industry once again, in the shortest possible time.  

After all, Malaysia has the advantage as  the world's first in unravelling the rubber genome more than two years ago!  

The trick  as reiterated by Najib is to "embrace out-of-the-box thinking and explore non-conventional solutions to problems" so that the ease of cultivating ethical science is unshackled! The crux of the issue: are we ready?
The writer is vice chancellor of Albukhary International University. Email him at education@nst.com.my